Ceramic injection molding has a wide application across different industries, offering businesses numerous benefits. The process of ceramic injection molding is quite complex and entails multiple well-devised production steps. As a result, precise, custom ceramic components are made to client specifications, meeting exacting industry criteria and quality standards.
Furthermore, since ceramic parts are produced for a wide range of applications, such as dental implanting, electronic circuit boards, water filtration systems, to name just a few, they need to be carefully designed.
If you've been using ceramic parts or are considering implementing them as a way to optimize your business operations, you should gain a deeper understanding of ceramic molding and how ceramic components are made to meet clients' needs.
How are ceramic parts made?
Advanced powders and organic constituents are used to research and develop advanced ceramic feedstock. In the ceramic injection molding process, experienced designers, machinists, and molders use the feedstock in a multistep molding and finishing process to deliver the final, high-precision results.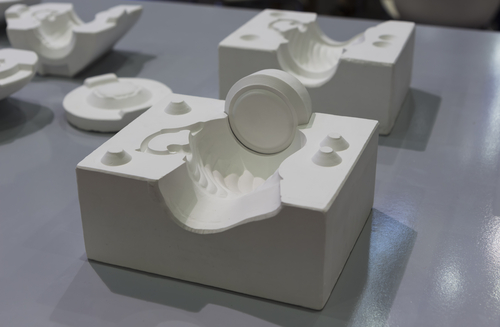 Ceramic parts offer an exceptional level of physical and chemical resilience, toughness, stability, and resistance to heat, pressure, chemicals, corrosion, and other harsh external influences.
Additionally, ceramic parts are even stronger than steel, which is why they are so widely used in demanding environments and industrial applications. Yet, the injection molding process is a convenient and cost-effective way of producing ceramic components for light to high-volume demands.
The process of ceramic injection molding step by step
As already mentioned, ceramic injection molding entails the application of a multifaceted process carefully designed to deliver high-quality, client-specified ceramic components. This process entails:
Initial consultation

Reputable injection molding companies will contribute to the initial design of a new part or component, from concept through production, helping to keep the new design, or part improvement project on track until the final design and ultimate manufacture of parts. The injection molding company's involvement can contribute greatly to the success of the finished part design.

Strategy, tool & design development

Having outlined customer specifications, injection molding specialists will continue the process by developing precise designs, strategies, and tools for ceramic part production.

Feedstock selection

This entails the choice and use of high-quality powders, such as Alumina, and organic binders blended into feedstock that is further processed to produce the ceramic part. The specific type of material used depends on client specifications and or the application, but some of the most common options are Alumina, Zirconia, and Alumina-Toughened Zirconia composites

Injection molding

Expert molders then use a variety of injection molding machines and other equipment to mold or form a high precision part or component from the feedstock.

De-binding

The next stage involves removing the binder using exothermic reaction and evaporation.  This process prepares the part for the sintering procedure.

Sintering

The sintering process is typically conducted in a  chamber at a high temperature. This leads to part densification and shrinkage and might be repeated until the desired result is achieved.

Post-sintering

Specialists may also employ post-sintering techniques, which may be required to create a ceramic part to the exact client specifications.  This might include diamond machining of outside and inside part dimensions, length, hole drilling, etc.

Quality inspection

Inspections and quality assurance checks are an essential aspect of the entire process because they enable injection molding technicians to meet the highest criteria and provide their clients with exceptional results
Your trusted choice for customized ceramic injection molding
Here at Wunder-Mold, we specialize in producing ceramic parts that are carefully designed and created using advanced injection molding techniques. Our team consists of highly experienced and educated engineers, machinists, and molders who are able to follow exact client specifications in order to deliver exceptional parts within demanding tolerances.
Furthermore, we serve both national and international customers, offering small quantity runs for prototyping purposes and larger quantities for production levels. Our ceramic injection molding process brings numerous benefits to business owners, including cost efficiency and exceptional quality. Feel free to contact us at (707) 448-2349 or sales@wundermold.com.