In the landscape of the world's ever-shifting economy, the competition is fierce and the only legitimate way to gain and maintain a competitive edge in the market is to focus on innovation and elegant solutions that save time and money. Plastic molding manufacturing seems to fit the bill perfectly: the process is straightforward and cost-effective. It's a global phenomenon: plastic mold injection companies save manufacturers valuable resources. 
Although not much has changed in terms of the fundamentals of the plastic mold injection process, advancements in the field have helped make the process more versatile and reliable than ever before. Unaffected by time constraints, the smart, tech-savvy process is characterized by high productivity and results in considerable savings, even at lower volumes. 
But what are the different plastic injection molding volumes and what does that mean in terms of end-results?
How do I get custom plastic parts?
How do you get custom small or medium-sized plastic parts of moderate design complexity that feature structural strength and high-quality surface finish? Theoretically, 3D printing is an option, but in reality, it is not a viable one. Injection molding, on the other hand, is not only viable and practical, but also cost-effective, as it is based on the principles of lean manufacturing. The higher the volume, the more cost-effective it is. Even at lower volumes, custom injected-molded plastic parts are obtained using special molds, and the benefits of this process include: 
high-tolerance precision

cost savings

low scrap loss

minimal post-production work

efficiency

consistent quality 

repeatable precision and accuracy
How are plastic molds made?
A full-service precision injection molding company will offer a full scope of services:
In-house team of engineers, designers and technicians

Provision of prototype parts

Mold building

Production

Bulk distribution or individual order fulfilment

Efficient and affordable shipping and delivery system
They can adapt to you or your needs, be it using your existing tools to run production or taking a brand new concept of your own and building on it.
What are different plastic injection molding volumes?
When choosing a company to outsource your custom injection molding to, you will consider the usual: their tech stack and capabilities, overall reputation and position in the market, quality standards and quality assurance process, as well as cost and delivery time. After all, there are so many companies to choose from.
One method to simplify the process is to base your decision on the volume of parts you require and your specific needs, as well as whether your prospective contractor has the capacity to meet those needs. Below are different plastic injection molding volumes:
Low-volume plastic injection molding: with a volume of up to 10,000 parts, the ideal applications of low-volume molding and production runs include prototyping, market testing, pilot production.
Mid-volume plastic injection molding: the volume of medium-volume production runs ranges between 10,000 and 750,000 parts.
High-volume plastic injection molding: with a volume exceeding 750,000 parts, this is a cost-effective solution for large-volume production of plastic parts.
Your trusted plastic molding manufacturing company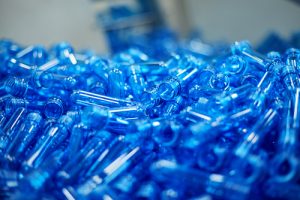 If you want to work with a customer-responsive, stable and reliable partner for custom plastic mold injection with a national and international reputation and have access to fully customizable custom plastic injection molded parts, Wunder-Mold is your top choice. We have a well-coordinated team that will work alongside you to give you prompt long-term solutions optimized to your specifications. 
Aside from technical expertise and experience, we apply the best management practices and put consistent effort into technological improvement. For more information, call us at (707) 448-2349 or send us an e-mail at sales@wundermold.com. We look forward to doing business with you!