The story of advanced ceramics is an interesting story of how the creation of technical ceramics and the discovery of the potential for various uses of technical ceramics can influence the development of many different industries that use advanced ceramics in their everyday operations.
What's more, it is an account of how further refinement of a certain material can lead to technical ceramics being used for numerous interesting and unusual purposes. So, let's see about the beginning of advanced ceramics and witness how long technical ceramics manufacturers have come from the early days.
What is the history of technical ceramics?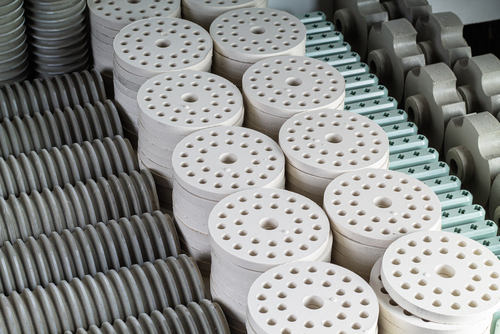 The history of technical ceramics can be divided into three distinct periods, and it all begins with earthenware. It was several thousand years ago that humans first learned to make earthenware vessels through kneading and forming clay. However, the first major breakthroughs concerning ceramics were made in Japan.
Pottery in Japan
It was in Japan that the first advancements in working with ceramics were made, as well as the various uses for earthenware pottery and vessels. For example, the method called Noyaki, where clay vessels were fired at temperatures that ranged from 1,000 to 1,400℉ while surrounded by piles of wood was invented in Japan.
After that, a new method called Anagama was implemented, about one and a half thousand years ago. This method consisted of using a sleeping, tunneled kiln during the firing process. It involved the clay being shaped using a potter's wheel, and then fired at temperatures that exceeded 1,800℉. Later, the Anagama method evolved into the Noborigama method. And it is these methods that make Japan the cradle of technical ceramics. 
Electrical technology
The invention of the electric light bulb by Thomas Edison, as well as the invention of the telephone by Alexander Graham Bell, noted the beginning of a new era – the era of electricity. Up to that point, ceramics were only used as vessels. However, ceramics would get a completely new role.
Their insulative capabilities made them a far better alternative to paper or wood, as well as the fact that they were far less affected by environmental factors such as humidity and temperature. This made ceramics extremely reliable. 
Since then, ceramics became widespread as insulators in many different areas, from household products to power lines, and it is technician ceramics that allowed people to easily use electricity.
Electro-ceramics
The inventions of the radio, the television, as well as the transistor in the 20th century marked the beginning of electronics. This entire era relied on technical ceramics from the very beginning and the vacuum tubes that employed ceramic materials. 
Since then, technical ceramics have been used in many different ways in the electronics industry, the two most notable being:
Wireless equipment – Only technical ceramics are able to provide high-signal output due to their properties.
Semiconductors – The core component of the era of electronics,

semiconductors

would not be possible without technical ceramics. 
Technical ceramics have also managed to reduce the size of inductors and capacitors. What's more, technical ceramics are constantly evolving, and can now even boast incredible magnetic and dielectric properties. It is this possibility for improvement that makes technical ceramics one of the most versatile and future-proof materials today.
Who is the leading technical ceramics manufacturer in the USA?
At Wunder Mold, we are familiar with the history of technical ceramics, and we know just how far the entire industry has come since the beginning. We are always looking for ways to advance our manufacturing process and keep in track with all the advancements in the technical ceramics industry.
We have more than 25 years of experience in the industry, and we are prepared to design and manufacture advanced ceramics for your needs. Dial (707) 448-2349 or contact us at sales@wundermold.com, and let us know what we can do for you and your business.